1968
Jack Neal opens the family business out of their home in Rutherford.
1984
The decision is made to transition from conventional farming methods to Organic Operations. Today Jack Neal & Son manages the most CCOF Certified acres in Napa Valley.
1994
Mark Neal assumes the role of Owner / President at Jack Neal & Son and continues to grow the company into one of Napa Valley's largest vineyard management operations.
1997
Jack Neal & Son opened the new 17,000 sq. ft offices in St. Helena. The new location includes a larger, state of the art repair facility, large classroom for employee trainings, and facilities for our expanded hauling services.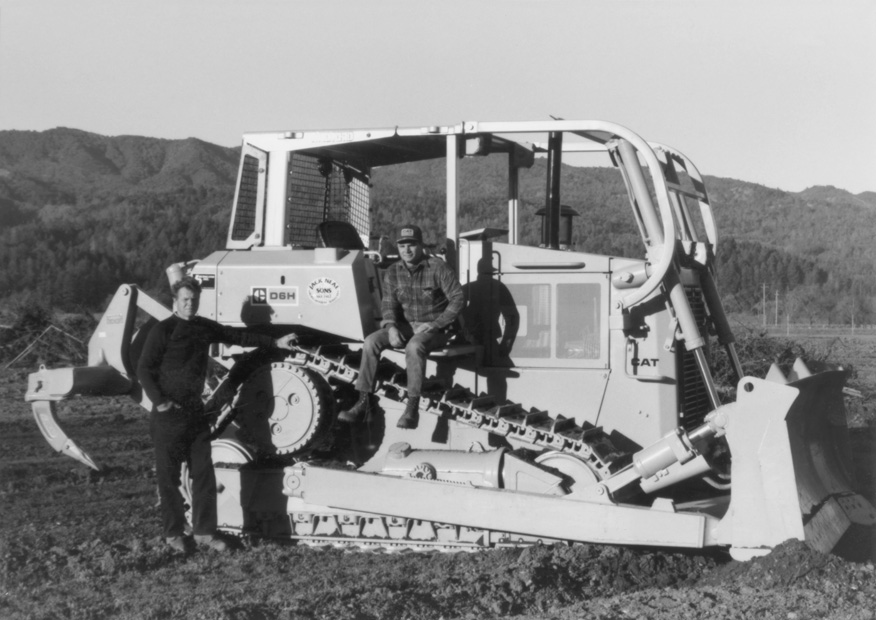 Efficient, Quality Focused & Committed to Sustainability
In 1968, Jack Neal opened a vineyard management company out of his home on Mee Lane in Rutherford. His goal? To provide top quality farming and vineyard management throughout Napa County.
In 1994, after working in his father's business since early childhood, Mark Neal became the owner and manager of Jack Neal & Son.
In January of 1997, Jack Neal & Son opened its new 17,000 sq. ft. office at 360 La Fata Street in St. Helena, California. The business is now one of the oldest vineyard management companies in Napa County and has grown to become one of the largest service providers in Northern California.
Jack Neal & Son continues to position itself at the forefront of the industry by looking ahead to new tools and techniques. Constantly seeking out new technologies, Jack Neal & Son was an early adopter of multispectral imagery, weather analysis, and precision agriculture. Jack Neal & Son is taking a leadership role in the application of biodynamic, organic and sustainable farming practices. A large portion of properties we manage are in compliance with CCOF, Fish Friendly Farming and other voluntary environmentally conscious organizations.
Jack Neal & Son has been at the forefront of the organic movement, practicing organic farming since 1984 and certifying more Napa vineyards than any other vineyard management company. Just over 90% of the acreage in Jack Neal & Son's care is farmed organically.
The company has grown considerably over the last 50 years, but our commitment remains the same: To provide the best possible service to our clients and agriculture community. We work around the clock to provide extraordinary service to our clients: Efficient, Quality Focused & Committed to Sustainability. By providing the best viticulture and agriculture services we play a part in maintaining some of the greatest produce and countryside in the world.
Our Team
Over the past 50 years, Jack Neal & Son has cultivated a team of knowledgeable professionals dedicated to viticultural innovation, precise and efficient service, and farming sustainably to preserve our environment for the next generation.
Mark Neal
Owner & President
×
‹

Mark Neal
Owner & President
Mark Neal's life-long involvement with the Napa Valley and his father, Jack's vineyard management business began at a very early age when he would work side-by-side with Jack, planting and training vines. Before he was driving a car, he was operating tractors, earthmovers and trucks - developing a passion for the agriculture of the region. As Mark grew, so did his interest and talent in viticulture and developing vineyards from raw ground. To futher his skills, he studied Viticulture at Santa Rosa Junior College, where he tutored classmates and was instrumental in the development of the school farm.
Upon his father's passing in 1994, Mark assumed the position of President and Owner of Jack Neal & Son, Inc. (JNS) The company has grown considerably under his management, but Mark has worked hard to ensure that it provides the same excellent service, commitment to quality, and personal attention to its clients that were its founding principles under his father guidance. Mark continues to direct every aspect of JNS' operations and is proud to have assembled a talented team of experts to help him carry on his father's vision.
›
Roberto Alfaro-Andrade
General Manager & Vice President
With the company since 2010